What is your name and your Digi-scrap blog address?
Miss Erin's Scraps (http://misserinsscraps.blogspot.com)
Tell us a little bit about your family.
I have 2 kids. Samara is soon to be 6 and Maddox soon to be 2. Their birthdays are only 3 days apart! I am also engaged to my fiance, TJ and we have been together all in all about 6 years. We love to do stuff outside together and go to the drive in movies in the summer.
What other hobbies do you have besides designing and scrapping?
What hobbies? J/K! I like photography a lot and have been learning how to shoot in different and interesting ways-or I hope anyways! And I love to read as well. The last book I read was The Host by Stephanie Meyer, who also wrote the Twilight series. And yes, I read all of them too! I'm also a sucker for the Harry Potter books, which I've read multiple times!
How did you get started designing and scrapping?
I just thought it was cool and I wanted to know how it was done just for the sake of knowing. I flipped on the scanner and started scanning things I found in my daughter's room. I didn't know anything about blending modes or layer styles! I colorized a blanket and thought that would be my paper. Little did I know!
How long have you been designing?
Sometime around the middle of 2008
Which programs do you use to design?
Adobe Photshop CS4 and ArtRage
Do you draw most of your items with a mouse, hand draw and scan, or do you use your camera?
I use my camera A LOT and I have been trying to do some more hand drawing. My mouse and I are good friends : )
Where does your inspiration usually come from?
I'm not sure. I just think up stuff I guess! I like to daydream a lot, and I do my best thinking in the bathtub.
How did you pick your design name?
I wish I would have picked something more clever! But everywhere I go, I somehow always end up getting called Miss Erin. So I figured why not?
Who are your favorite three designers?
Mimilou Designs, Chrisscrap, and Melancolie, all designers at my fav store, Scrapmalin. Well ok, 2nd fav next to Gingerscraps!
What is your favorite part of a kit to design?
Papers
What is the weirdest thing you have used as a texture?
Hmmm, an old wore out sheet pan!
What is your favorite kit that you have designed?
I really like this free kit called Wonderland that I did for free, it's on my blog
HERE.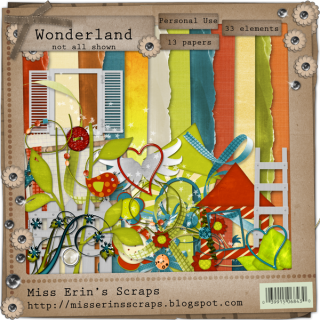 What is your least favorite?
Everyone else seems to like it a lot, but Remember the Best Dreams is so NOT my fav!
How do you get started on a kit? Palette first? Rough idea on what you want your papers or elements to look like?
An idea for a theme, then the colors and ideas for elements come next. I make a list!
How long does it typically take you to make a kit?
Depends on how inspired I get or how much time I have. Anywhere from a couple days to a few weeks. And I have a whole folder of unfinished kits!
If you could change one thing about yourself what would it be?
I wish I didn't talk so much, but I just can't help myself! I am cursed with word vomit!
What is the one word that best describes you?
Free spirited-ok that's two words, but I couldn't think of a one word equivalent.
Who is the most important person in your life?
2 people-my kids
What is something that not many people know about you?
That despite my social butterfly-ness, I really do like to be alone sometimes. I was always a loner when I was a kid. My brother is 7 years younger than me so we didn't have too much in common. I spent many hours in my room creating elaborate Barbie houses out of cardboard boxes!
If you could travel anywhere where would you go?
Ireland, I think it would be pretty there and it has a great history.
When you were little what did you dream of being when you grew up?
A singing superstar!
What do you like doing with your family?
Playing softball, going on nature hikes, drive in movies, camping, fishing...well anything outdoors anyways.
Where is your favorite place to be?
There is a state park not far from where I live. You walk a mile long trail to get to the big waterfalls. I love going there, it never gets old.
Edward or Jacob?
EDWARD!
CU or do it your self?
Both : )
Erin is giving you a new kit for FREE, B. True....
Click
Papers
to download the papers from 4Shared... and come back tomorrow for the elements!
And she made a desktop QP too, it is available in 1024x768 and 1280x800
Click
here
to download from 4shared!