It is time for some Fresh Baked Goodness!!!! Yahoooo :)
A new kit from
Miss Erin's Scraps, Honor Roll
! All the kids are going back to school now, and although some of us moms may have mixed feelings about that...we hope you all got your cameras out and snapped a bunch of photos! With all those school days pics, you of course would need an extra special kit to scrap them with right? With 54 elements and 14 papers, you'll have enough to keep you scrappin throughout the school year no matter what grade your child is in!
Today, September 9, 2009 only, reply to Erin's twitter post HERE and the first 5 to respond will get the kit for free! Go to ERIN'S BLOG tomorrow and she will have a freebie for everyone!
And did we mention we're having a sale? If you miss out on the free offer, don't forget you can still get it cheap, along with some other school themed kits by Scrappy Cocoa and Statements by Jodi! (ad is linked to the shop)
Misty has a brand new kit in her Spotlight series -
In the Purple Spotlight
. This kit is soft, feminine, and features beautiful shades of lilac, orchid, lavender, and of course, purple! Don't forget the coordinating glitter styles! Both the kit and glitters are 20% off Thursday Sept 10.
And of course the
matching Glitter Styles!
Remember this one? From Charmaine's first newsletter? Well in case you missed it, it's in the Gingerscraps store today!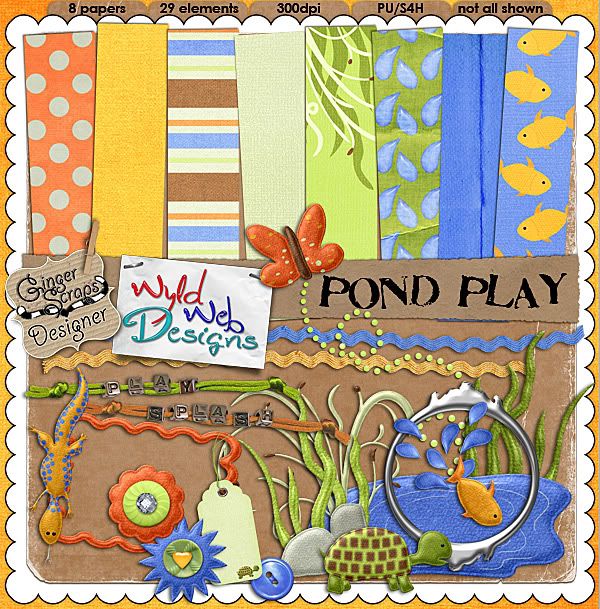 Pond Play
is 25% off this week only!
And this week ScrappyCocca is releasing two new kits!
Here is a fun medical kit inspired by her husband who is in medical school! This kit is perfect to scrap all those boo boos, cuts and scraps! Kit includes 15 Papers, Full Alpha, and 45 Elements~
Take Two
And last but certainly not least...This is a fun, fancy, whimsical kit full of lots of glittery elements! Great for little princesses! This kit includes 16 papers, full alpha, and 41 Elements
Whimsy Flyte