We have a ton of excellent goodies for you this week; grab a cup of coffee, something to nibble, and get comfy.
First from
Jen of Graham Like the Cracker
; her first set of Templates,
My Favorite Layouts Volume One.
Sometimes the mojo goes away and I can't make a decent layout to save my life. That is when I turn to templates. Templates always bring my mojo back, so I have decided to share some of my favorite layouts with you!
These templates are PDS files. I have included a shadowed and and non-shadowed version of each layout in a PSD file and a full sized JPEG file for you to build your layout on top of if you can't open PSD files. I have also included a jpeg of what my shadow settings are in case you want to recreate them yourself!
This set of four PSD templates is $3.00
Next, Jen has an element and paper
add-on for Hukilau Honey
The add-on contains 8 papers and 9 elements.
When you combine this add-on with the full Hukilau Honey kit, you will have 28 papers and 55 elements!
This add-on is $3.00
Next, Jen had a matching
alpha for Hukilau Honey
This shiny and bright acrylic alpha is the perfect compliment to the coordinating kit, Hukilau Honey. This full alpha contains uppercase letters as well as numbers and punctuation. Full sheet and individual PNG files are included for your convenience. Don't forget to pick up the matching kit!
This alpha is $2.00.
and the last goody from Jen is the
Hukilau Honey Bundle
!
Buy the Hukilau Honey bundle to get awesome savings! This bundle includes the entire kit, the full alpha, paper and photo masks, and the add-on at one low price. You save 25% off the regular store prices for each item!
The bundle is $9.00
This one is called A Woman's Dictionary and features 4 different words and definitions according to women. Grab them in the
store
for only $2.00!
Charmaine previously released this kit for her week #1 entry in the SYTYCD contest. She has added to the kit and is putting it in the store for anyone who missed it!
Here is
"Sunset on the Beach"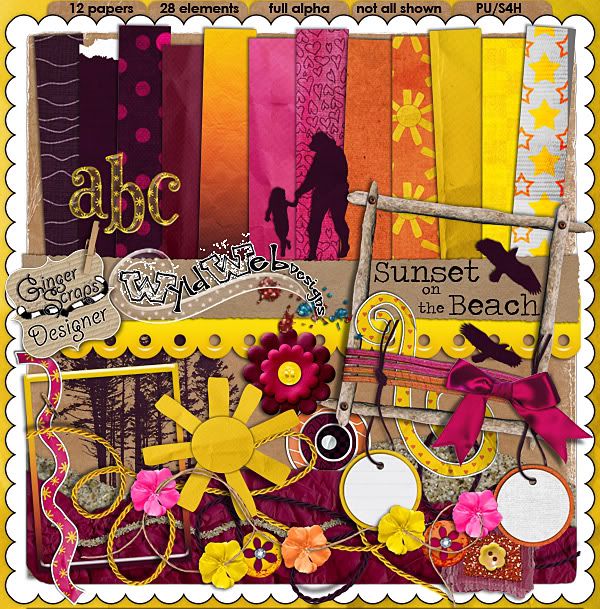 Though this vibrantly colored kit was inspired by the colors of a beach sunset, it is a versatile kit that can be used to scrap any photos of your loved ones.
This kit contains:
12 textured papers, 6 plain and 6 patterned
a full acrylic patterned alpha
3 buttons, one in two colors
2 bird silhouettes
1 mother and child silhouette
1 horizon silhouette
1 acrylic scallop border
1 bow
1 fastener
1 flower
1 string with flowers
3 frames
1 rope in two colors
1 string in two colors
1 sand flourish
1 sandy hill
1 sun
2 paper flourishes
1 tag in two colors
1 tissue paper horizon
Charmaine also created the matching
glitter styles for Sunset on the Beach
:
Jodi has a far out kit for you this week-
Groovy Kind Of Love
Here is a closer look at the alpha included in this kit
Far out dude! This mega retro 60's kit will really take you back! Way back to the days of tie dye, peace, love, bell bottoms, lava lamps, bugs and so much more.
This kit includes
65 elements, 30 papers and 1 Tie Dye Upper Alpha
6 solid papers, 7 tie dye papers, 13 other pattern papers, 3 rainbow papers, and 1 multi coloroed paper
2 hippie chicks, 2 hippie dudes, 4 bug cars and 3 bug vans, 1 paif of bellbottoms and 1 paisley flair sleve shirt, 10 stickers, 1 record, 2 boxes, 1 license plate, 2 staples, 5 lava lamps, 3 belts, 4 guitars, 1 heart clip, 2 peace signs
and much, much more!


Next we have to wonderful collabs by the GingerScraps team :)
Independence Day

Celebrate your Independence with this HUGE collab for the GingerScraps family.
This kit includes-
42 Papers- all 12 by 12 and 300 dpi
102 Elements- png and jpeg, all 300dpi
Glitter Styles- asl file for photoshop layer style
Glitter Sheets-png file glitter sheets for non-photoshop users
3 Alphas
Here are a few Layouts with Independence Day
And FINALLY.. The newest HUGE collab
Another Day In Paradise
The GingerBread Ladies REALLY knocked themselves out on this one!!!
Let your imagination drift away to a secret island..... This kit is the ultimate Island get away!
Another Day In Paradise includes
:
48 Papers- 12by12 and 300dpi
64 Elements- png and jpeg, all 300 dpi
2 Alphas-
Glitter Styles- asl file for photoshop layer style
Glitter Sheets-png file glitter sheets for non-photoshop users
The gallery if FULL of amazing Layouts using
Another Day In Paradise
!
Here are just a few:
Jen from Graham Like the Cracker
has decided to give away this freebie quick page!