What is your name and your Digi-scrap blog address?
Charmaine of Wyld Web Designs, http://wyldwebdesigns.com/wordpress/

Tell us a little bit about your family.
I'm a mom to two terrific kids, Lilah and Casey, who are almost 3 and 1 years old. My husband of nearly 5 years is my best friend and my family is the most important thing in my life.

What other hobbies do you have besides designing and scrapping?
There's other stuff? Uh, I guess reading, hiking and playing games with friends (board games, Rockband, dominoes, etc)

How did you get started designing and scrapping?
I started scrapping after I was tired of making signature tags for other people on a message board. I quickly became addicted to making pages of my gorgeous family! I had no intentions of designing until Jen of "Graham Like the Cracker" designs talked me into joining a design challenge and here I am, just a few months later!

How long have you been designing?
I forget the start date, but its only been 2 or 3 months.
Which programs do you use to design?
Primarily Photoshop, but I also use Illustrator and Art Rage for some things. Oh, and my beloved Nikon D80 :)

Do you draw most of your items with a mouse, hand draw and scan, or do you use your camera?
I draw my doodles with my Bamboo tablet and I use my camera for many other things such as ribbons, buttons, etc. I occasionally use my scanner, but I don't like the quality as much.

Where does your inspiration usually come from?
Tough question. From all over. A lot of my kits are kind of reflections of my personality and life, so I guess I just have to say my life!

How did you pick your design name?
My husband runs a web design business from home so I just added myself to his business. The "Wyld" portion of the name is part of his favorite username on the internet.

Who are your favorite three designers?
Yikes, I have to pick?? Ok, well going strictly on who owns the most hard drive space on my computer, I would have to say Ziggle Designs, Ellie Lash and Flergs.

What is your favorite part of a kit to design?
The doodles :)

What is the weirdest thing you have used as a texture?
A fake leaf from the garden of Pixie Hollow at Disneyland that I took while waiting in line to see Tinkerbell :)

What is your favorite kit that you have designed?
My favorite kit that I have designed isn't in the store yet! But it will be soon! My favorite in the store is probably my
Good Clean Fun
kit:



What is your least favorite?
Hands down, my first kit ever designed. Its scary. We shall not show that off :)

How do you get started on a kit? Palette first? Rough idea on what you want your papers or elements to look like?
I usually just start with a rough concept or idea, then I need a palette before I can get any farther. After I pick colors then I usually make most of my papers first, then I can get the elements I want.
How long does it typically take you to make a kit?
I can rarely get a kit done from start to finish in one session. It takes me anywhere from 2 to 7 days to put a kit together. Total hours is probably over 12.
If you could change one thing about yourself what would it be?
My weight.

What is the one word that best describes you?
Smart.

Who is the most important person in your life?
My husband.

What is something that not many people know about you?
I played varsity rugby in university.
(Jen editing it here: Char is CANADIAN!)

If you could travel anywhere where would you go?
Australia

When you were little what did you dream of being when you grew up?
Older LOL. I always wanted to be an artist, I guess this is kind of realizing a dream for me (warning, moment of self-realization incoming!). I always used to draw and doodle and sign it with a fake name, like I was using a pseudonym because I was so "famous". Ahh the good old days :)

What do you like doing with your family?
We love going camping! I can't wait for camping season to start!

Where is your favorite place to be?
At home in front of my computer!

Edward or Jacob?
Edward, for sure!

CU or do it your self?
Do it myself. I use a bit of CU, but most of my stuff is my own.


Some other kits in my store:

This is Charmaine's latest kit, out on Wednesday, a collaboration with Jen of
Graham Like the Cracker
, called The Seaweed is Always Greener.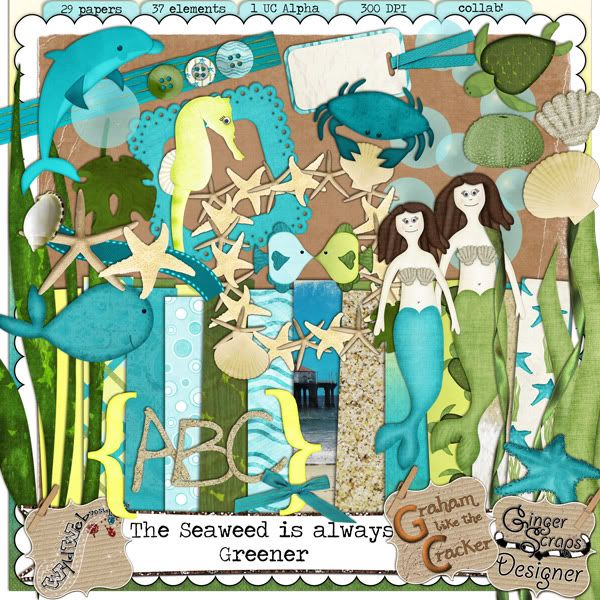 You can download the quick page of Charmaine's layout before you can even buy the kit! Click the image or HERE to download!